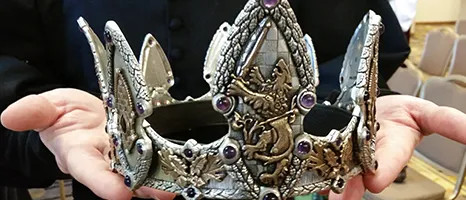 An Tir Crown
The dark times of plague are lifting, and it is the Crown's wish that the populace would come together to celebrate and bear witness as new heirs are chosen. Noble and chivalrous fighters will come from every corner of the kingdom to meet in combat and vie for the Sable Throne!
This event will feature the Crown Tournament, as well as activities and contests in rapier, archery, thrown weapons, equestrian, Arts, Sciences, Bardic, and more. There will not be official championships in equestrian and archery this year, as the Crown has decided to let the current champions remain so that they may fulfill their duties, now that events are resuming.
Join us at our beautiful site between two mountains to share in the pageantry of the Crown Tournament!
Event Stewards: Cassandra Deveroux and Rebecca Fletcher
UPDATE:
As we all know, things have been changing fast lately. We are proceeding with planning of this event with high hopes that it will happen. Keep in mind that we are still waiting to hear if the Canada/US border will open in time.
UPDATE:
This event has been cancelled. Please see the announcement.