Practices have resumed under our Contagious Disease Plans and in accordance with local health directives
Please bring your own mask and water bottle, if you want to mask up.
Contact the practice organizer or marshal in charge if you will need loaner gear.
Please contact the relevant marshals or post on one of our Facebook groups with any questions.
Although the SCA complies with all applicable laws to ensure the health and safety of our event participants, we cannot eliminate the risk of exposure to infectious diseases during in-person events. By participating in the in-person events of the SCA, you acknowledge and accept the potential risks. You agree to take any additional steps to protect your own health and safety and those under your control as you believe to be necessary.
The SCA Bullying and Harassment policy is in effect.
It is an attendee's responsibility to be familiar with and understand this policy.
The SCA prohibits harassment and bullying of all individuals and groups. Harassment and bullying includes, but is not limited to the following:
Offensive or lewd verbal comments directed to an individual
The display of explicit images (drawn or photographic) depicting an individual in an inappropriate manner
Photographing or recording individuals inappropriately to abuse or harass the individual
Inappropriate physical contact; unwelcome sexual attention; or retaliation for reporting harassment and/or bullying
Participants violating these rules are subject to appropriate sanctions. If an individual feels subjected to harassment, bullying or retaliation, they should contact a Seneschal, President of the SCA, or the Kingdom's Board Ombudsman. If a participant of the SCA becomes aware that someone is being harassed or bullied, they have a responsibility pursuant to the SCA Code of Conduct to come forward and report this behaviour to a Seneschal, President of the SCA or Kingdom's Board Ombudsman.
2023 October
Sun

1

Mon

2

Tue

3

Wed

4

Thu

5

Fri

6

Sat

7
Sun

8

Mon

9

Tue

10

Wed

11

Thu

12

Fri

13

Sat

14
Sun

15

Mon

16

Tue

17

Wed

18

Thu

19

Fri

20

Sat

21
Sun

22

Mon

23

Tue

24

Wed

25

Thu

26

Fri

27

Sat

28
Sun

29

Mon

30

Tue

31

Wed

1

Thu

2

Fri

3

Sat

4
Monday Night Combat Practice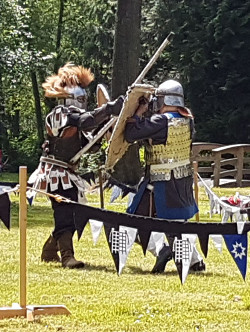 Heavy Combat, Rapier Combat, Cut & Thrust
Every Monday evening, 7pm to 10pm during the wet months. Starting October 18, 2021
(Usually September – May)
Westwinds Community Church,
6331 176th Street, Surrey, BC V3S 4E9
(Enter from the west side of the building, from 175a Street. Look for the white metal gate alongside the entrance driveway. Park in the west parking lot)
Cost: $5
For more information, see the Lions Gate Fight Practice Facebook Group.
Black Kettle Cook's Guild
Last Monday of the Month, 7:00 pm to 9:00 pm
Cost: Free
On the last Monday of each month, people interested in mediaeval cooking get together to eat and chat about food. Bring some food to share (mediaeval or otherwise) and join the culinary fun! Contact Tanikh (mka Joanne Burrows) at Joburrows@shaw.ca for the address and further details.
Tuesday Night Combat Practice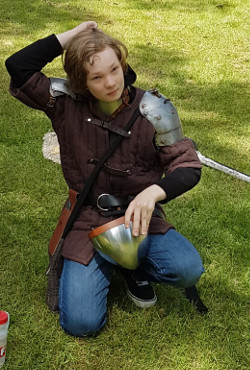 Wednesday Renaissance Dance Practice
Every Wednesday, 7:00pm to 9:00pm
Options Community Services
13352 Old Yale Road, Surrey
Cost: Free
Please join us for Renaissance Dance practice Wednesday nights from 7:00 pm to 9:00 pm at Options Community Services, 13352 Old Yale Road, Surrey. No charge for practice!

Skytrain access via Surrey Centre. Walk south past the mall (keep mall on left), then along University Drive to Old Yale Road (about 15 minutes). Walk to the main doors of the second building and the meeting room for dance practice is just inside on the right. When driving, come from 132nd to Old Yale Road, and turn right just before University Drive. Parking is limited, but street parking is also available.

Please see the Lions Gate Dance Facebook group for more info.
Thursday Night Steel Combat Practice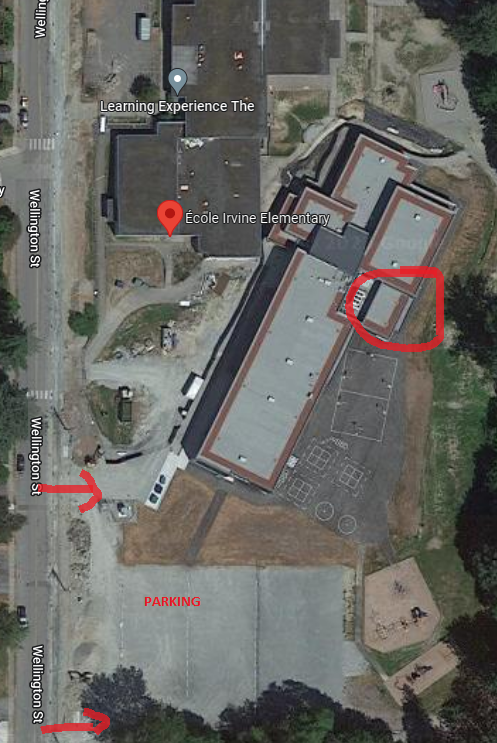 Rapier Combat, Cut & Thrust
Every Thursday Night, 7- 9pm
We will be sharing this space with Prima La Spada School of Swordplay, run by Daniel Werner. Lions Gate practice will have use of half the gym (a lovely, spacious, new space), while Daniel will be running his own classes and practice in the other half. There is plenty of ceiling height and space for Cut and Thrust.
All our normal SCA policies and costs apply, and please bring your most chivalrous self as we meet new people to potentially spar with!
Daniel will be running his own classes from 6 to 7pm, so please arrive no earlier than 7pm. We also have to be out of the building at 9pm sharp.
Location:
École Irvine Elementary School
3862 Wellington Street, Port Coquitlam
Please see the image for where to park and the red circle for where the entrance to the gym will be.
Dates for these practices are:
February 2, 9, 16, 23
March 2, 9, 30
April 6, 13, 20, 27
May 4, 11, 18, 25
Jun 1, 8, 15
For more information, see the Lions Gate Fight Practice Facebook Group.
Archery & Thrown Weapons Practice
Cornwall Ridge Equestrian Centre 21955 16th Ave, Langley, BC
Look for the Cornwall Ridge sign at the entrance driveway. The facility is gated. Code is 2212.
We have two practice areas, depending on the time of year:
· Winter practice: (Nov to Apr) back forage field Sun noon – 4 pm
· Summer practice: (May to Oct) outdoor sand arenas Sun 3 pm – 6 pm
If no classes or riding have been booked in the sand arena by the morning of practice, we may use it during the winter practice (check with Jen Landell first.)
***All attendees must sign a Cornwall Ridge waiver form***
Fees
· Practice fee $7 per person.
· Children aged 18 and under are free with a paid adult and must be under parent or guardian supervision at all times.
Give a tooney; take a tooney: there will be a little "Tooney Chest" of toonies at the reg table. If you're short $2 for practice, please feel free to take a tooney to add to your fee. No questions asked. If you can contribute coin to the "Tooney Chest", please do. Let's encourage participation by as wide a group of people as we can.
Facilities
· Parking is along the right side of the road after the gate or beside the trailers to the left of the indoor arena. Please don't block any gates. NO parking in the area in front of the Dressage shed (our locker). One vehicle is permitted to temorarily load or unload there.
· Washroom in the indoor arena.
· Arena lounge up the flight of stairs in the indoor arena.
· Dressage booth is available for storage. Please keep the left side clear so that it can be used for Dressage viewing.
Conditions of Use
· Clean up all garbage, target debris and target pins.
· Keep the Arena lounge, kitchen, and washroom clean.
· Turn off lights when finished in an area.
· Close doors where noted to keep the heat inside.
· Do not adjust any temperature controls in the building.
Animals
· It is preferred that no animals be brought onto the equestrian centre. If service animals are required, they must be leashed at all times. Please clean up after your animal.
· Please do not interact with any horses or dogs without express permission of the owner and Jen Landell
For more details and updates check out the Lions Gate Archery and Thrown Weapons Facebook page or contact the Baronial Archer at lionsgate.archery@tirrigh.org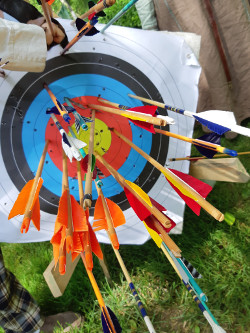 Arts & Sciences Nights
Equestrian Activities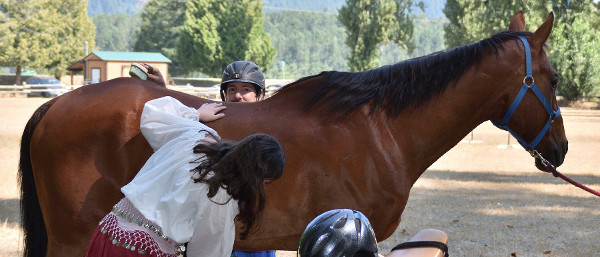 Dates depend on interest, and marshal and equipment availability, and will be announced as they are scheduled.
Contact the Equestrian Officer lionsgate.equestrian@tirrigh.org for information about what is required to participate in equestrian activities in the SCA.
Scribal Arts
The last Tuesday of each month, 7pm-10pm at Fight Practice will be scribal night! Come do scribal things!