Practices are gradually resuming in accordance with local health directives
Although the SCA complies with all applicable laws to ensure the health and safety of our event participants, we cannot eliminate the risk of exposure to infectious diseases during in-person events. By participating in the in-person events of the SCA, you acknowledge and accept the potential risks. You agree to take any additional steps to protect your own health and safety and those under your control as you believe to be necessary.
The SCA Bullying and Harassment policy is in effect. It is an attendee's responsibility to be familiar with and understand this policy.
The SCA prohibits harassment and bullying of all individuals and groups. Harassment and bullying includes, but is not limited to the following: *offensive or lewd verbal comments directed to an individual; *the display of explicit images (drawn or photographic) depicting an individual in an inappropriate manner; *photographing or recording individuals inappropriately to abuse or harass the individual; *inappropriate physical contact; unwelcome sexual attention; or retaliation for reporting harassment and/or bullying. Participants violating these rules are subject to appropriate sanctions. If an individual feels subjected to harassment, bullying or retaliation, they should contact a Seneschal, President of the SCA, or the Kingdom's Board Ombudsman. If a participant of the SCA becomes aware that someone is being harassed or bullied, they have a responsibility pursuant to the SCA Code of Conduct to come forward and report this behavior to a Seneschal, President of the SCA or Kingdom's Board Ombudsman."
2022 August
Sun

31

Mon

1

Tue

2

Wed

3

Thu

4

Fri

5

Sat

6
Sun

7

Mon

8

Tue

9

Wed

10

Thu

11

Fri

12

Sat

13
Sun

14

Mon

15

Tue

16

Wed

17

Thu

18

Fri

19

Sat

20
Sun

21

Mon

22

Tue

23

Wed

24

Thu

25

Fri

26

Sat

27
Sun

28

Mon

29

Tue

30

Wed

31

Thu

1

Fri

2

Sat

3
Monday Night Combat Practice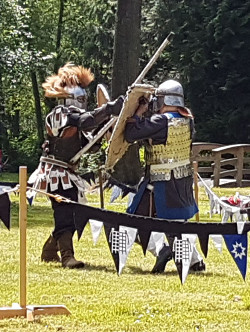 Heavy Combat, Rapier Combat, Cut & Thrust
Every Monday evening, 7pm to 10pm during the wet months. Starting October 18, 2021
(Usually September – May)
Westwinds Community Church,
6331 176th Street, Surrey, BC V3S 4E9
(Enter from the west side of the building, from 175a Street. Look for the white metal gate alongside the entrance driveway.) Park in the west parking lot.
Cost: $5
For more information, see the Lions Gate Fight Practice Facebook Group.
Tuesday Night Combat Practice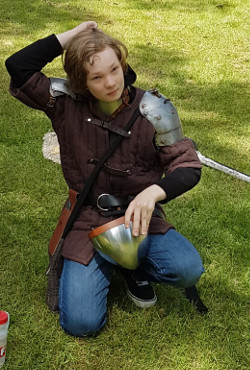 Every Wednesday evening, 7pm to 9 pm
Options Community Services
13352 Old Yale Road, Surrey.
(2nd building, in the common room just inside the entrance on right).
There are several visitors' spots in the complex parking lot, otherwise please look for street parking. It's a few minutes walk from Surrey Central or King George Skytrain stations.
Please come join us for some laughs and a fun evening as we learn some new dances as well as remember some of the oldies but goodies.
Cost: Free
For more information, see the Barony of Lions Gate forum on Facebook or contact the Baronial Dance deputy at lionsgate.dance@tirrigh.org
Thursday Night Combat Practice
Rapier Combat, Cut & Thrust, Heavy Combat
Every Thursday Night, 7:30pm to 9:30pm
Justice Institute of BC,
715 McBride Blvd, New Westminster, BC
(Northwest building, in gym basketball court.)
Cost: $5
Parking is free, at the back of the hall; access is from the alley. The site is a 10 minute bus ride from Columbia Skytrain station and centrally located for all of Lions Gate.
For more information, see the Lions Gate Rapier Practice Facebook Group.
Archery & Thrown Weapons Practice
Target Archery & Thrown Weapons
Sundays, Noon – 4pm
Combat Archery
Some Sundays, 4pm – 6pm
Archery only
Monthly, 1st and 3rd Thursdays, 7pm to 9pm – beginning June 16, 2022
(This practice is seasonal and normally runs May to October.)
Taisce Stables,
4586 96 St. Delta, V4K 3N3
Cost: $5 per adult
Parking is in the gravel area as you drive in. This is a working stables, so please be mindful of the horses and keep a respectful distance. Stay in the practice area. Washroom available in the stable office.
For more details and updates check out the Lions Gate Archery and Thrown Weapons Facebook page or contact the Baronial Archer at lionsgate.archery@tirrigh.org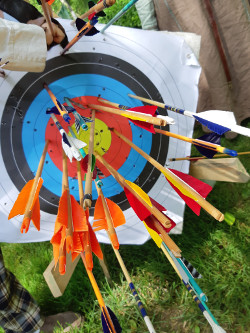 Arts & Sciences Nights
Wednesday Cook's Meeting
First Wednesday of the Month, 7:00pm to 9:00pm
Contact the the A&S Minister at lionsgate.artsnsci@tirrigh.org for the address.
Cost: Free
On the first Wednesday of each month, people interested in medieval cooking get together to eat and chat about food. Bring some food to share (medieval or otherwise) and join the culinary fun! Details will be posted on the calendar and the Baronial Facebook Page. You can also contact the the A&S Minister at lionsgate.artsnsci@tirrigh.org for the address and further details.
Equestrian Activities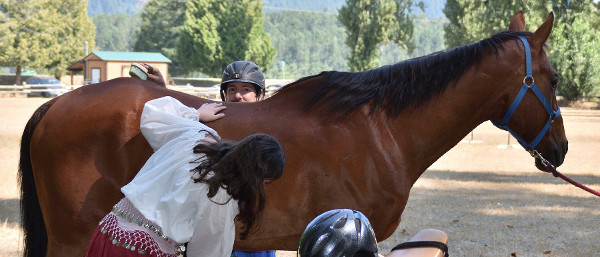 Dates depend on interest, and marshal and equipment availability, and will be announced as they are scheduled.
Contact the Equestrian Officer lionsgate.equestrian@tirrigh.org for information about what is required to participate in equestrian activities in the SCA.
Scribal Arts
The last Tuesday of each month, 7pm-10pm at Fight Practice will be scribal night! Come do scribal things!