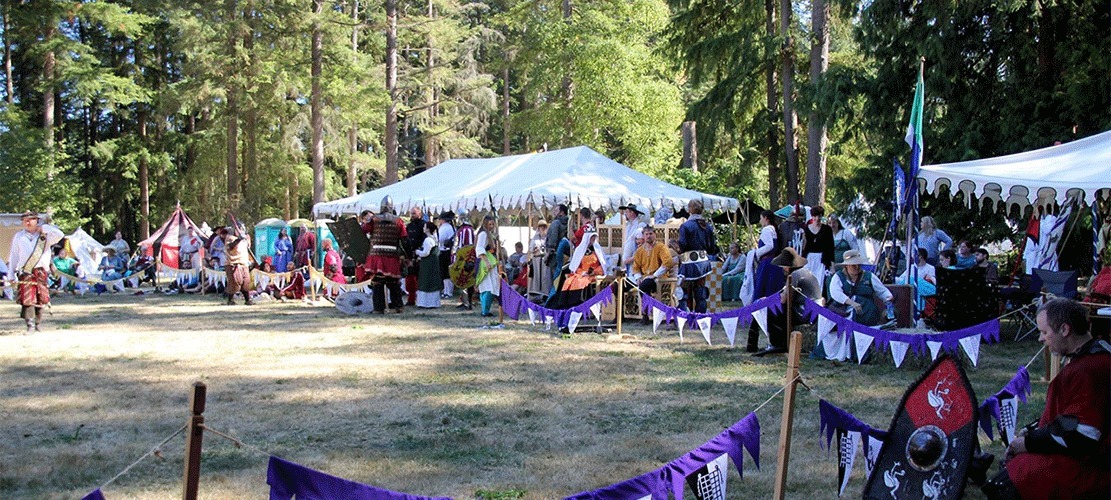 An Tir – September Crown 2019
Please join Their Majesties Morgan and Livia in Lions Gate as they host a grand tournament to determine who shall ascend the Lion Thrones as Their Heirs. Competitions to choose the Kingdom Equestrian Champion and Kingdom Protector will also be at this event.
Event Schedule (will be updated as new activities are added)
https://www.antir.org/wp-content/uploads/2019/04/Sept-Crown-2019-Schedule-Final.pdf
Event Registration Fees
Adults: $30 for adults, $5 discount for members
Children: free – minors in BC are 18 and under
US funds accepted at par; change at Gate will be provided in Canadian funds.
Cheques made payable to "Barony of Lions Gate".
Pre-registration is not yet open, it will be available via Paypal
Please be aware that the gate for general populace opens strictly at 3pm. The site is not officially ours until that time due to another group's contract. If you arrive early you will have to wait in parking until such time as we are allowed to open the gate.
**Smoking only allowed in marked location** (location indicated on site map)
Fire Policy will be determine by conditions/regulations at the time of the event.
There are several water taps available on site (locations marked on site map)
Flush toilets are available
Dogs – Please note that dogs are only allowed on-leash. This will be strictly enforced.
EVENT STAFF
Event Steward – Duke UlfR Blodfotur Fallgrson chris.grant@hall.net
Deputy Event Steward – Mistress Isabella Lucrezia lucrezia@shaw.ca
Finance / Gate – Dame Elena de Maisnilwarin elena.de.maisnilwarin@shaw.ca
Marshall in Charge (MiC) – Master Warwick Drakkar warwickdrakkar@gmail.com
Archery MiC – Archos Ts'ai T'ien-pu
jaime.tiampo@gmail.com
Thrown Weapons MiC – Lord Duncan of Aberfoyle
Rapier MiC –
Cut & Thrust MiC – Master Feradach mac Tralin mec Domongairt
Equestrian – HL Cassandra Wineday of Newingate equestrian@tirrigh.org
A & S Coordinator & YAFA Classes – HL Taliesin ap Hafgan taliesin.ap.hafgan@shaw.ca
Merchant Liaison Dame Arianna Freemont – dcocking@shaw.ca
Royal Liaison Duchess Dalla Tamara.young2011@gmail.com
Please Note: Requests for Group Camping, Cabins, List Field and RV reservations are now open and will close by Aug 7th
List Field Space Request Contact – Isabella Lucrezia http://bit.ly/SeptemberCrownListFieldRequest
Group Land Request Contact – Isabella Lucrezia http://bit.ly/SeptemberCrownGroupLandRequest
Cabin Space Request Contact – Archos Morwenna – morweenaSCA@gmail.com
RVs: **We have limited RV spaces at this site. RV Reservations are first-come, first-served. You will receive a notification when your reservation has been confirmed.
RV Reservation Request Contact – Duke UlfR http://bit.ly/SeptemberCrownRVRequest
http://bit.ly/SeptCrownCabinReservation
Cabin Reservations: We have 10 cabins that we will be opening up for reservations. Priority will be given to those who are traveling from afar or would prefer cabins for accessibility reasons. These will be available for $10 per person for the event. The cabins are basic scout cabins with 4 bunk beds each and reasonable space for bags/boxes, etc. There are flush toilets and showers in the same area as the cabins.
Schedule Requests
If you have activities you wish to be on the schedule, please contact Mistress Isabella – lucrezia@shaw.ca. Other than the main scheduled events that require TRM approval, people organizing activities should find their own time and location that works for your group.
Hotel Options:
We have no special arrangements with the hotels but these are, in descending order of desirability in the unofficial opinion of the Event Steward (who spends 100+ nights a year in hotel rooms), some hotels that are the closest to the site. We cannot claim any special knowledge of these hotels other than that they are nearby.
Hampton Inn
Coast Hotel
Days Inn
Westward Inn
Nearest Grocery Store to site:
IGA
2410 – 200 St, Langley City, BC V2Z 1X1
2.7 km (1.6 miles) from site
Hours: 8am to 9pm
Real Canadian Superstore
2332 160 St, Surrey, BC V3S 9N6
10.6 km (6.6 miles from site
Hours: 7am to 11pm
Nearest Hardware Store to site:
Home Depot
2525 160 St, Surrey, BC, V3S 0C8
Hours: 7am to 10pm
18 AND UNDER ARE MINORS IN THE PROVINCE OF BC
September Crown is being held in the province of BC, and the age of majority here is 19. Please be aware of the following and avoid delay or disappointment at gate.
All minors must provide either:
1. Proof of blue card SCA membership
OR
2. The "Minor Consent to Participate and Hold Harmless Agreement" (link http://sca.org/docs/pdf/chldwaiv.pdf), signed by their parent or legal guardian. This can be signed on site by the parent/legal guardian if they are accompanying the minor.
If not accompanied by their parent/legal guardian, all minors must
1. Be accompanied by an adult (21 or over), who will be responsible for them at the event,
AND
2. Present to gate two copies of the Medical Waiver for Minors – Canadian version (link http://legacy.antir.org/Pubs/forms/04_MinorMedical_CAN.pdf), signed by their parent/legal guardian,
AND
3. Present to gate a photocopy of scanned printout of the parent or legal guardian's driver's license or comparable ID that has the parent's or legal guardian's signature displayed.
AND
4. A signed Equestrian Waiver
http://legacy.antir.org/Pubs/forms/34_EQWaiver_Standard.pdf
For those travelling from the US, please remember that you'll need your passport, or other suitable government ID to cross the border. Also, be sure to check the government websites for what you are permitted to bring to Canada. There are specific rules surrounding cross border transport of fruits and vegetables, meats, alcohol, firearms, and illegal or controlled substances.